Boy
is a song by
Little Mix
and appears as the ninth track on their second album,
Salute
. Little Mix premiered the song on November 5, 2013 on their official Soundcloud account.
Critical Reception
Popcrush writer Amy Sciarretto stated: "Little Mix pay homage to En Vogue and Destiny's Child – again – with 'Boy,' as well. It is a soulful, finger snapper song about moving on from dat boy. But make no mistake: Little Mix are not a carbon copy nor are they co-opting black female vocal groups. They infuse the concept of the rhythmic-leaning vocal ensemble with their own edge and a dose of their unique, Mixed and blue-eyed soul." [1]
Live Performances
Little Mix performed "Boy"as a part of their Salute Tour in 2014.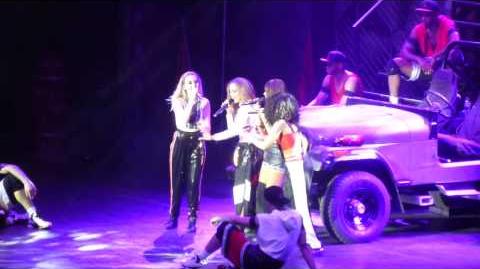 Lyrics
Jesy (Little Mix):
Do you remember what he said?
(I do, he told you he'd never) ever hurt you
Oh, here we go again
Another (break-up, make-up, when you gonna) wake up

Leigh Anne (Little Mix):
I'm gon' be the (one to call him out)

Jade (Little Mix):
Look how many (times (he let you down)

Perrie (Little Mix):
When's he gonna (learn to be a real man)

Leigh Anne (Little Mix):
I'll be the one to (say you're beautiful)

Jade (Little Mix):
One more word (he never said at all)

Perrie:
I'm just sayin' you need to go

Perrie with Little Mix (Leigh-Anne and Jade):
Forget that boy, forget that boy
You know that that boy ain't good enough for you
You're holding back tears in your eyes
That boy wanna fight but I never see him fighting for you
He'll never realize what he's got
Until it's gone (And he'll lose you forever)
Girl you'll be alright, forget that boy

Jade (with Little Mix):
Girl don't you know you set the tone?
I'll make you stop that, fight back
(He won't get away with that)
Look who's ringing up your phone
You wanna call back, leave that
(Ain't nobody got time for that)

Leigh-Anne:
It's funny how the tables turn
When he's the one who's left at home
Find your own real man and go

Perrie with Little Mix (Leigh-Anne and Jade):
Forget that boy, forget that boy
You know that that boy ain't good enough for you
You're holding back tears in your eyes
That boy wanna fight but I never see him fighting for you (Leigh-Anne: Oh oh)
He'll never realize what he's got
Until it's gone (And he'll lose you forever)
Girl you'll be alright, forget that boy

See what you're worth girl
Look what you've got
He knows you're out of his league
If he likes it or not

I know what you're worth girl
You know what you've got (Leigh-Anne: Yeah)
He'll know you're out of his league
If he likes it or not (Leigh-Anne: Likes it or not)

Jade:
Ahh, ahh ooh yeah

Jesy:
Haah

Perrie with little Mix (Leigh-Anne):
Forget that boy (Perrie: Boy), forget that boy
You know that that boy ain't good enough for you (Yeah yeah)
You're holding back tears in your eyes
That boy wanna fight but I never see him fighting for you (Jade: I never see him fighting for you)
He'll never realize what he's got
Until it's gone (Leigh-Anne and Jade: And he'll lose you forever)
Girl you'll be alright, forget that boy (That boy, that boy, that bo-oy)

I know what you're worth girl
You know what you've got
We know you're out of his league
If he likes it or not (Jesy: Likes it or not)
Girl you'll be alright, forget that boy

Perrie:
Haah
Audio
Click here to listen to it on Deezer

References