Get Weird
is the third studio album by
Little Mix
and was released on November 6, 2015. The lead single from the album is
Black Magic
.
Background
At the 2015 Brit Awards, the group confirmed that their album was completed, describing it as having a "whole new sound" and projecting the release for sometime in 2015. Having written over 100 songs for their third album, in May 2015 Little Mix released "Black Magic", the lead single from their upcoming third album. Little Mix also co-wrote Britney Spears and Iggy Azalea's single "Pretty Girls", which was also released in May 2015. The group have confirmed that the album is more of pop sound compared to Salute with the songs being very fun, colourful and personality driven.
On 15 July 2015, the group officially announced on Twitter that their third studio album is titled Get Weird, and would be available for pre-order the next day.
Singles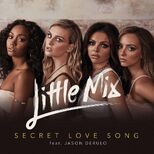 Promotional Singles
Hair was announced on the 23rd August and was eventually released on the 28th August with the girls releasing short snippets of the song throughout the week. The song, despite not being a single at that time, debuted at No. 35 on the official UK charts.
Weird People was announced on the October 12, 2015 as the second promotional single and on October 13, 2015 a snippet was released on Instagram. The song was released on October 16, 2015.
Grown is the final promotional single released from the album. A snippet was released on Instagram on October 29, 2015, the full song became available a day after on October 30, 2015.
Get Weird Tour
The Get Weird Tour was officially announced on 17 July 2015 through the band's Twitter. They announced 21 more UK tour dates due to high demand. In October 2015, they announced that they were coming to Oceania. In December 2015, they announced that they were also coming to Asia. European tour dates were announced in February 2016. It began on March 13th 2016, in Cardiff, Wales at the Motorpoint Arena. The support act for the first UK leg was Jagmac. Nathan Sykes was the support act for two of the UK legs. Joey Devires was the support act for the second UK leg. Jai Watford was the support act for the Oceanian leg, The Sam Willows were the support act in Asia and Philippa Hanna was the tour support in Europe, as well as the re-arranged Belfast gigs.
Tracklist
Standard Edition
#
Title
Writer(s)
Producer(s)
Length
1.
"Black Magic"
Camille Purcell, Ed Drewett, Edvard Førre Erfjord, Henrik Michelsen
Electric, Matt Rad, Maegan Cottone
3:31
2.
"Love Me Like You"
Purcell, Steve Mac, Iain James, James Newman
Mac
3:17
3.
"Weird People"
Erfjord, Michelsen, Drewett, Purcell
Electric, Rad, Cottone
3:31
4.
"Secret Love Song
(featuring Jason Derulo)"
Jason Desrouleaux, Rachel Furner, Jez Ashurst, Emma Rohan
Jayson DeZuzio
4:10
5.
"Hair"
Erfjord, Michelsen, James, Anita Blay, Purcell

Electric, Rad, Cottone, Sam Ellison

3:28
6.
"Grown"

Little Mix, Erfjord, Michelsen, Jess Glynne, Janée "Jin Jin" Bennett, Purcel
Electric, Rad, Cottone
2:36
7.
"I Love You"
Little Mix, TMS, Purcell
TMS, Cottone, Ellison
4:09
8.
"OMG"
Little Mix, Nick Monson, Cottone, Mike Orabiyi, Jon Mills, Kurtis McKenzie
Monson, Cottone, Ellison
3:23
9.
"Lightning"
Little Mix, TroyBoi, Cottone
TroyBoi, Cottone, Ellison
5:09
10.
"A.D.I.D.A.S"
Jade Thirlwall, Leigh Anne Pinnock, Cottone, Nathan Duvall, Kiris Houston, Aubrey Graham, Noah Shebib, Majid Al Maskati, Jordan Ullman, Anthony Jeffries
Duvall, Houston, Cottone, Ellison
3:22
11.
"Love Me or Leave Me"
Matt Radosevich, Julia Michaels, Shane Stevens
Matt Rad, Joe Kearns
3:26
12.
"The End"
Purcell
Kearns, Purcell
2:12
Deluxe Edition
#
Title
Writer(s)
Producer(s)
Length
13.
"I Won't"
Little Mix, Glynne, TMS
TMS, Phil Cook, Cottone, Ellison
3:17
14.
"Secret Love Song Pt. II"
Ashurst, Rohan, Furner
Ashurst, Cottone, Ellison
4:26
15.
"Clued Up"
Little Mix, TMS, Jessica Cornish
TMS
4:06
16.
"The Beginning"
Purcell
Purcell, Kearns
1:33
iTunes Bonus Content
#
Title
Length
17.
"Hair (Bonus Video)"
3:31
18.
"Behind the Scenes at the Apple Music Festival 2015"
4:12
Charts
Charts  
Peak
position  
Australian Albums Chart
2
Belgium Albums Chart (Flanders)
15
Belgium Albums Chart (Wallonia)
54
Canadian Albums Chart
12
Dutch Albums Chart
9
French Albums Chart
47
German Albums Chart
29
Irish Albums Chart
1
Italian Albums Chart
20
New Zealand Albums Chart
8
Norwegian Albums Chart]
28
Scottish Albums Chart
2
Swedish Albums
13
UK Albums Chart
2
US Billboard 200
13
Videos
Ad blocker interference detected!
Wikia is a free-to-use site that makes money from advertising. We have a modified experience for viewers using ad blockers

Wikia is not accessible if you've made further modifications. Remove the custom ad blocker rule(s) and the page will load as expected.