Jesy Nelson, born June 14, 1991 (age 22), is a member of the British four-piece girl group Little Mix with Perrie Edwards, Leigh-Anne Pinnock, and Jade Thirlwall.
Early Life
Jesy is from Romford in Essex, her parents are John Nelson and Janice White. Jesy has one older sister named Jade and two brothers named Joseph and Johnathan. It was reported that due to bullying, Jesy had to move to different schools several times. She attended secondary school at the Jo Richardson Community School in Dagenham. Jesy was a dedicated drama and music student and so then attended Abbs Cross Academy and Arts College in Hornchurch. Also, Jesy went to Sylvia Young and Yvonne Rhodes theatre school. 
Career
X Factor (2011)
Jesy auditioned for X Factor with the song
"Bust Your Windows"
by Jazmine Sullivan in Glasgow and received praise from both Tulisa Contostavalos and Louis Walsh, however Gary Barlow wasn't impressed at all saying he just didn't get it. But Jesy was still able to move forward to Bootcamp where she was unsuccessful as a solo artist.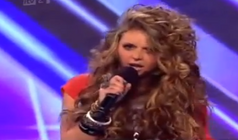 She was then put in a four piece band named "Faux Pas"  with fellow future Little Mix member Perrie Edwards. Faux Pas were unsuccessful, fortunately though both Jesy and Perrie were asked to form a new four piece band Rhythmix  with Jade Thirlwall and Leigh-Anne Pinnock. 
During the X Factor shows, our Jesy was the victim of a horrible online campaign against her. Jesy was exposed to nasty comments about her appearance and was visibly upset, she received huge support not only from Mixers (their fanbase name) but other music fans. Little Mix went on to win the X Factor and automatically released their cover single Cannonball.
DNA (2012-present)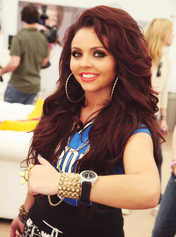 Following 
The X Factor
, the girls signed a record contract with Sony Music subsidiary Syco Music. They said through a live stream via Twitcam that their debut single will be called "
Wings
". Little Mix announced their debut album in September 2012 called 
DNA
, which released on 19 November 2012. They later published lyrics videos and official music videos of their other singles, "
DNA
", "
Change Your Life
", and "
How Ya Doin'?
".
Tattoos
Jesy has two known tattoos, one on her arm and the other on her thigh.  She got both done at the same time in July 2013.
On her right thigh are the words "A tiger never loses sleep over the opinions of sheep," an inspiring message to rise above criticism and hatred.
On the inside of her upper right arm are the words "Music is the strongest form of magic."
Personal Life
Jordan Banjo
Jordan Banjo (born 31 December, 1992) is a member of Diversity, a dance troup, that won Britain's Got Talent in 2009. He is Jesy's ex-boyfriend.
George Shelly
Jesy and George Shelly are seeming to confirm romance rumours by the Virgin Media Louder Lounge at V Festival in Hylands Park, Chelmsfold.
Trivia
She has a phobia of sandwiches. [1]
Her style inspiration is Gwen Stefani.
Is addicted to clicking her knuckles.
Her nickname is Jesminda.
Her favorite group is Spice Girls.
Her favorite foods are Nandos.
Favorite musician is Missy Elliott, her favorite group are the Spice Girls.
Favorite movie is Taken. [2]
She washes her hair every day.
Can do a Scottish and Australian accent.
The girls describe Jesy as the most outgoing, lovely and caring person, who will always listen to you or talk to you when you have a problem.
She is very good at beat boxing and used this skill during her audition as a solo artist, their Judges Houses performance of Cry Me a River, a Capella outbursts on X Factor, in Wembley Final during their Mentor Performance and in the Little Mix track Going Nowhere.
She and Perrie share the same middle name, Louise.
Before The X Factor, she worked at a bar.
Is a fan of Jeremy Kyle.
She is the oldest member of the group Little Mix.
She was bullied on the Internet during the early Live Shows of X-Factor and has spoken about her experiences to inspire others. [3]
She is currently single. [4]
She has not yet taken her driving test.
She believes that the band is very 'open'.
She is left handed
Quotes
"

I'm not going on a diet, I'm not trying to lose weight, because your insecurities are what make you different and if everyone looked the same, it'd be boring

"

—Jesy Nelson
"

I have the girls and they are like my family now. For every bad comment, there are 100 nice ones.

"

—Jesy Nelson
"

When I was younger I got bullied about the way I looked and I thought once I was older it would stop. I hated going to school, but didn't know who to talk to about it. It knocked my confidence a lot.

"

—Jesy Nelson
"

"A lot of work goes into it! We have an amazing stylist and she always has a massive comb—she straightens my hair, then goes through it with a hair-dryer and diffuser. Mine is really curly naturally, but this is not all my own hair. It's too short. Jade is the only one with her own hair!"

"

—Jesy
"

"When we dye our hair, like the colors Perrie and Jade have right now, it's a stain, not proper hair dye. You wash your hair and it comes right out—it's so annoying. Every time you wash it, you have to dye it again, so they never wash it."

"

—Jesy
"

"I've never in my life worn heels! When we do things like premieres, they tell me, 'You can't wear sneakers—you've got to wear heels.' But we can't dance in heels. I don't know how Beyonce does it. I would literally break my neck if I performed in heels! It's really important to feel comfortable so we perform at our best, so it's flats all the way!"

"

—Jesy
References