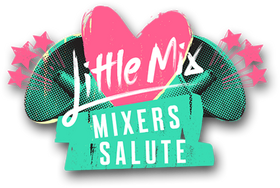 Mixers Salute
was a competition created by
Little Mix
for their fans. They wanted to get their fans involved in the release of their "Salute" sophomore album.
In the announcement video below the Little Mix members chat about challenges they want their fans to compete in. The Winners of the challenges will receive special prizes. specials
First of all 'Salute' your country and show where you are live. Take a photo of the Salute artwork and post with your country flag on it at a location in your city – You can find the artwork on Facebook:Little Mix Official Facebook
You can take part in the Competition by a Tweet of your photo with the hashtag #SaluteYourCountry, with your country's name at the end.
The Girls will be Retweeting the countries taking part, and looking out for really creative photos. They'll also be awarding follows and looking out for people that have changed their profile picture to the Salute artwork with their country flag.
Ad blocker interference detected!
Wikia is a free-to-use site that makes money from advertising. We have a modified experience for viewers using ad blockers

Wikia is not accessible if you've made further modifications. Remove the custom ad blocker rule(s) and the page will load as expected.