Week 2 – Oct 31
Challenges
Mixers Salute Mission 8: On the Move
Inthis challenge Little Mix want to see some of the dance moves by you on their New Single "Move".Take a photo of you moving to 'Move' on the move, and Tweet your picture including the hashtag #OnTheMove along with your country.The individuals with the most creative photos will receive 2 follows for Mixers from their country. Entries that really stand out may even get something special from the girls
Mixers Salute Mission 9: Move Fast Moves
It is the time to get you moving again – the girls want to see some of your favourite dance moves. Show them your best Moonwalk, Running Man, Harlem Shake etc.Tweet your dance moves using the hashtags #MixersSalute and #MoveFastMoves with your country and send them as fast as you can.The girls will be awarding retweets and 10 follows EACH to the countries with the best fast moves.

00:36

Mixers Salute Mission 9 Move Fast Moves
Mixers Salute Mission 10: Locks For Leigh
 Leigh-Anne is known for her amazing array of hairstyles, and now she wants you to come up with her next style for her luscious locks. create a hairstyle for Leigh by downloading the wig booth app or wig it app on your phone or you can also draw your entry!! Tweet it using the hashtag #MixersSalute #LocksForLeigh and your country.Leigh will be choosing her top 5 favourite hairstyles! These top 5 will receive 6 follows

each

for members of their country.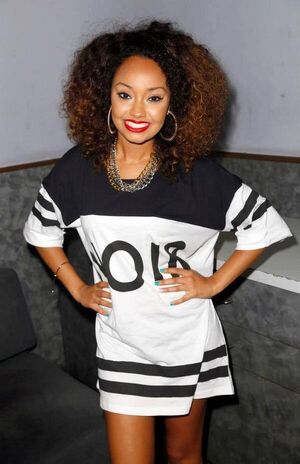 Mixers Salute Mission 11: Salute Word Search
Time to discover some Little Mix Lyrics with the Salute Word Search. You will have to find just some 12 song lyrics in word search that are from the upcoming album in the nifty word search.

All you need to do is complete the Little Mix puzzle and Tweet a screenshot of your completed word search with the hashtag #MixersSalute, #SaluteWordSearch, and your country. They'll be Tweeting the link to the word search

The first person/country to correctly complete the word search and Tweet it with the hashtag #SaluteWordSearch along with their country will get 15 follows for their country.
Mixers Salute Mission 12: Little Mix Lyricbook
You've seen some of the lyrics, now it's time to get your pens/pencils/crayons/creative devices ready for this next mission. The girls want you to design a front cover for their new lyric book.All you need to do is take a photo or scan of your design and submit to their Tumblr page. Please do not include any Little Mix lyrics on your entries otherwise they will not be eligible. But you could use them as inspiration. The girls will each choose their favourite lyricbook design – these 4 entries will each receive an amazing special prize – your lyricbook will be made into a physical copy and signed by the girls for you to keep.

00:42

Mixers Salute Mission 12 Little Mix Lyric Book
Ad blocker interference detected!
Wikia is a free-to-use site that makes money from advertising. We have a modified experience for viewers using ad blockers

Wikia is not accessible if you've made further modifications. Remove the custom ad blocker rule(s) and the page will load as expected.