Week 3 – Nov 7
Challenges
Mixers Salute Mission 13: Salute Word Jumble
They've've jumbled up some lyrics from the album using a series of anagrams and general gobbledygook. On Monday 11th November  they will be posting these out one by one on Twitter. They want you to unjumble the words to find the lyrics.They don't want you to just tweet the answer, Instead then they want you to Tweet a picture of the correct lyrics and the title of the track that it is taken from.Tweet your photo answer with the hashtag #MixersSalute, #SaluteWordJumble(1, 2 etc), and your country. There are 12 lyrics to unjumble. We'll be Tweeting the first #SaluteWordJumble.The first person to Tweet each photo answer will receive a follow for themselves and 2 Mixers from their country.
Mixers Salute Mission 14: Multiple Mixers Salute
In this challenge LM want Mixers to come up with the most inventive way to spell the track titles from the new album 'Salute'. You can use letters and even yourselves, but your entries MUST include other Mixers. Be as creative as possible to stand out and make it into our alternative Salute track list photo album.The girls will be looking at your entries, and they'll be letting you know which tracks still need to be created to complete the album.Make sure you tweet your entries with the following – #MultipleMixersSalute, your country, you will also need to include the hashtag #SaluteANDTHETRACKYOUARERECREATING so they can find them. They will be choosing the best recreations for each track, and it will be added to the alternative Salute track list photo album. All Mixers taking part in the photo will receive a follow; your country will also receive 7 follows for other Mixers taking part.Here's one for you made by Portuguese Mixers.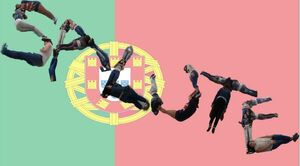 Mixers Salute Mission 15: Jesy's Jukebox
Its time to Suggest tracks for Jesy's ultimate party playlist over on Twitter. Jesy will be ready and waiting to hear suggestions of your top party tracks to add to her playlist. These can be any songs, so you can impress her with tracks that are popular in your countries or pick a track that would be most suited to her.Tweet your party tracks using the hashtag #JesysJukebox so she can pick out her top tunes.Jesy will be choosing her top 12 tracks. If your country is in the top 12, your country will receive 12 follows.
Mixers Salute Mission 16: Mixers Salute Cover
In this challenge Little Mix want you to show the girls your best covers of tracks from the new album Salute.
The girls would like you to cover any one of the following:
Move
Little Me
About The Boy
Record your cover of either Move, Little Me or About the Boy and upload it to Youtube. Make sure to include the hashtag #MixersSaluteCover, your country, the track you are covering and the Twitter handles of yourself and any other Mixers involved, in the Youtube description box so we can find you and your video. The girls will be choosing their favourite cover of each of the 3 tracks! And the winning videos will receive follows for themselves and 10 Mixers from your country.
Ad blocker interference detected!
Wikia is a free-to-use site that makes money from advertising. We have a modified experience for viewers using ad blockers

Wikia is not accessible if you've made further modifications. Remove the custom ad blocker rule(s) and the page will load as expected.