SiriusXM Hits 1
is an American Top 40 radio station on Sirius XM Radio channel 2 and Dish Network channels 6002 and 099-02. It plays no commercials. The channel was formerly known as US-1 until 2004. The name is a take-off of VH1, whose name was originally an abbreviation of "Video Hits 1". Vh1 Satellite Radio once existed on XM but the channel was discontinued prior to the merger.
2013
Little Mix performed their songs Wings, Going Nowhere and We Are Young on the radio show in 2013.
2014
Little Mix took part in a live chat on the show on June 17, 2014.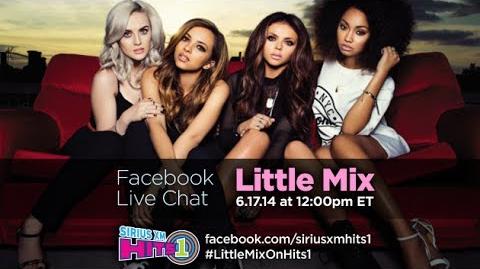 2016
Little Mix appeared on the show during 2016.
Ad blocker interference detected!
Wikia is a free-to-use site that makes money from advertising. We have a modified experience for viewers using ad blockers

Wikia is not accessible if you've made further modifications. Remove the custom ad blocker rule(s) and the page will load as expected.