Teen Vogue
magazine began as a version of Vogue magazine for teenage girls. This U.S. magazine focuses on fashion and celebrities and offers information about the latest entertainment and feature stories on current issues and events.
Little Mix
appeared in the August 2013 issue of Teen Vogue with the cover star being Emma Watson. They also gave an interview during 2015 and took part in a photoshoot.
2013
Perrie
Is it hard to believe that it's only been two years since you've won the X Factor? "Oh gosh, yes! It's been going really fast and it's scary, but it's so amazing! We're doing a tour, and then we've just got loads of promo and everything like that. A lot is coming up and it's so exciting."
What exactly is the Little Mix sound? Can you describe the style of your debut album? "It's a mix of everything. Our album is full of both fun and meaningful songs, there's something on there for everyone: fast songs that you prefer when you need to go out with all of your girlfriends, or you can put it on when you're getting ready, and then emotional songs too. We've all got massive tastes in music! Jesy is into R&B, Leigh-Anne likes old school slow jams, and Jade is into all different kinds of things. So, it's good because it merges everything together for the album."
Where did your love of music come from? Did you always want to be a singer? "I definitely always wanted to be a singer and a performer. I think I got it from my parents because my dad's a singer and my mom's a singer, so it kind of runs in the family and I just thought it was normal. But, I never really had the confidence to do it until my mom made me go on the show. I'm glad for my mom making me do the X Factor."
How has life changed since you and Zayn Malik have become a couple and Little Mix has gained international success? "It's quite scary to be all over the papers and to be on the front pages of the magazines. It's hard, but it's something that just comes with the territory in the industry and after a while you get used to it. Lucky for us, we're in a girl group, so I've got three other girls to fall back on!"
You have such a fun and playful style! Do you have any shopping favorites? "I like vintage shops mainly, because then you can get one-of-a-kind pieces. I love Topshop and I love American Apparel, things like that. I also love Urban Outfitters! When I was in New York and went to Urban Outfitters, I honestly nearly died because of how good it was."
Can you share any crazy fan stories from being on the road? "I wouldn't say crazy, but I'd say we do have a lot of moments where we're all overwhelmed by the reaction of how many fans there are. When we pull out of venues and they're all standing there, it's really amazing for us to have that fan base. Our fans are just so amazing and supportive! We're really thankful."
What advice do you have for those trying to make it in the industry? "I'd say just go for it, because you never know. I didn't want to go for the X Factor because I just thought people were going to laugh and take me off the stage. You just got to go for it because what's the worst that can happen?"
Have the boys from One Direction given you any post X Factor advice? "Especially after the X Factor, they all gave us advice. They just said, 'You have to enjoy what you do and you have to be confident. You have to work your bum off and just go for it because it's a once in a lifetime opportunity. The day that you stop enjoying it is the day that it's going to get hard for you.' But we're just loving it, so we're really thankful for everything."
Where do you see Little Mix in ten years?
"Hopefully Little Mix will be as successful as we possibly can be, and we're hoping we do get a chance to go international and come to America. It's going to be hard work to get there, but we're willing to work for it!"
Gallery
Videos
2015
Get Weird isn't just the name of Little Mix's upcoming album; it's also the girls' personal mantra. Despite being impossibly glamorous — all eyelashes and waist-length hair — they'd rather be goofing off and cracking dirty jokes on their tour bus, makeup-free and in PJs, than swanning around Hollywood.
The girls call Teen Vogue just as they're heading out of New York City for a show in Philly, and though it's a boring two-hour drive and far too early to have consumed an adequate amount of coffee, they sound like they're having a slumber party. As they pass the phone around, they giggle and whisper when they're not delivering inspiring girls-rule, boys-drool advice and talking about how weird — no, seriously, so weird — they are.
Jesy, Perrie, Leigh-Anne, and Jade aren't interested in pretending to be perfect (even if their hair always is). They'd rather embrace their eccentricities and inspire fans to do the same. "We're all just really so weird. Anyone who works with us would tell you that we're so weird," said Perrie, then adds with her characteristic candor: "If you want to be a little creep, then do it. Everyone's got this idea of perfection, and everyone strives to be that, but it's all a bunch of crock."
Get Weird, an album filled with kiss-off girl-powered anthems, comes at a curious time. Over the last few months, the band has been a constant presence in the headlines, not only for their music, but also for the highly publicized breakup between Perrie and former One Direction bad boy Zayn Malik. But to write this album off as a breakup record is frankly giving one guy way too much credit. After all, the girls were putting the finishing touches on the tracks long before Zayn parted with both his band and his girl.
And the tracks, for what it's worth, are great. Both their 2012 dance-pop debut DNA and R&B-heavy follow-up Salute had notable success, but this third album marks a different, well, direction for the girls. "We're growing up. We're not young girls anymore," said Leigh-Anne. "It's a little more cheeky. It's quite a pop album that's relatable to everyone — it's classic '80s pop."
But still, it's hard to hear a song like "Hair" (with the lyrics like "When you see him in the club / Just flip your hair, don't show him any love / Cause you've had enough") and not imagine your newly-single self screaming it alongside your best friends, which is, incidentally, exactly how Little Mix suggests you should get over a breakup. And given the last month they've had, they should know. Perrie, in fact, delivers the best advice when it comes to dealing with heartbreak, maybe because she's been through it so recently. "Surround yourself with your girlfriends, have fun, have a night out, maybe have a good cry, eat lots of crap," she said. (Her favorite kind of crap? "I love toffee popcorn, crisps, chocolate, I love milkybar, I love chocolate, I love ice cream.")
There have been a lot of good cries recently, some happy, some sad, and some in front of hundreds of people. But that only further proves that Little Mix is more interested in being real than being perfect. Although the media has portrayed Perrie as a down-on-her-luck victim with a broken heart and a useless engagement ring, she's anything but. All four girls possess the kind of self-assuredness that comes from a childhood spent listening to Beyoncé and aspiring to be Independent Women, not trophy wives. Whether they're in relationships or not, they believe best friends — not boyfriends — should come first. "You can do anything you want when you've got friends around you," said Jade, speaking to both the importance of friendship and to the secret of their success.
Even Jesy, who's engaged to Rixton frontman Jake Roche and is forced to carry on most of their relationship via FaceTime, is happy as long as she's surrounded by her girls. "To be honest, we're just loving what we're doing and we get to experience all of this together, which is amazing," she said. "There aren't many people who can say they see different things every day. We genuinely get on so well, and even though we're in each other's pockets, we never argue — and no one believes us, but even when we get done with work for the day, we still want to have sleepovers. It's like we're addicted to each other."
It's impossible to talk about Little Mix without comparing them to the Spice Girls, the pioneering U.K. girl group. But their similarities go way beyond being British or having a penchant for platforms. Like their predecessors, Jesy, Perrie, Leigh-Anne, and Jade are fierce feminists who believe in doing things their own way and answering to no one (except their Mixers).
"Girl power means everything to me," said Perrie. Jesy backed her up (further proving the force of girl power): "When girls stick together, we're a stronger force. When girls are bitchy, it's such a shame because there's no need for it and if girls stick together, we can take over the world."
That's exactly what Little Mix intends to do.
[1]
Gallery
Videos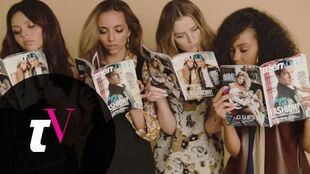 References
Ad blocker interference detected!
Wikia is a free-to-use site that makes money from advertising. We have a modified experience for viewers using ad blockers

Wikia is not accessible if you've made further modifications. Remove the custom ad blocker rule(s) and the page will load as expected.