Top of the Pops, also known as TOTP, is a British music chart television programme, made by the BBC and originally broadcast weekly between 1 January 1964 and 30 July 2006. Each weekly programme consisted of performances from some of that week's best-selling popular music artists, with a rundown of that week's singles chart. Additionally, there was a special edition of the programme on Christmas Day (and usually, until 1984, a second such edition a few days after Christmas), featuring some of the best-selling singles of the year.
2011
Little Mix performed their single Cannonball on the TOTP Christmas special in 2011.
2013
Little Mix performed their single Move on the TOTP New Years Eve special on December 31, 2013.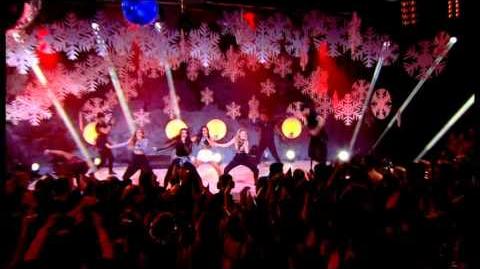 Ad blocker interference detected!
Wikia is a free-to-use site that makes money from advertising. We have a modified experience for viewers using ad blockers

Wikia is not accessible if you've made further modifications. Remove the custom ad blocker rule(s) and the page will load as expected.