Turn Your Face
is a song by
Little Mix
which appears as the seventh track on their debut album,
DNA
.
Background
Critical Reception
Popdust writer Andrew Unterberger stated: "Nothing mid-tempo about this ballad, that's for sure. "Turn Your Face," co-written and produced by the UK pop impersario Steve Mac, features the girls taking turns singing the lead with just a piano and light strings for accompaniment, as they sing about an emotionally damaging on-off relationship ("Each time I take you back / You bring one thousand cracks / And I accept them, like a fool") and making the decision to finally cut the cord, demanding to their lover "Turn your face / So I can't see you anymore."
The song's stark production makes for an obvious contract with the turbo-pop found elsewhere on DNA, and though the song isn't exactly "Jar of Hearts" in its emotional rawness, there are some legitimately spine-tingling moments in "Turn Your Face," especially the girls' voices strain to hit the high notes on the "So I can't see you anymore" chorus lyric. Not quite a stunner, but impressive nonetheless." [1]
Live Performances
Little Mix performed "Turn Your Face" as a part of their DNA Tour in 2013.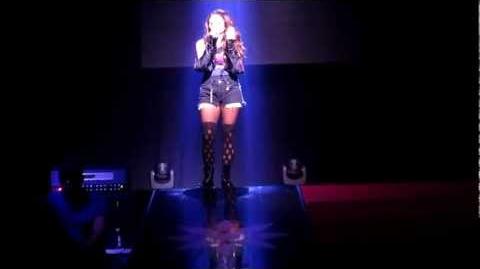 Lyrics
Jesy:
In my memory, all the small things, like daggers in my mind
In my memory, while my head bleeds, the words I'll never find
That I always meant to say to you I can't

Jade:
Cause you turned your face, and now I can't feel you anymore
Turn your face, so now I can't see you anymore
Walk away, until you're not standing at my door
Turn your face, walk away and stay
Turn your face,
hmm oh

Perrie:
In my memory, I was hurting, long before we met, oh
In my memory, there's still burning, fingerprints you left
And I'll always meant to say to you I can't

So just turn your face, until I can't see you anymore
Turn your face, until I can't see you anymore
Walk away, until you're not standing at my door
Turn your face, walk away and stay
Turn your face

Leigh-Anne:
Each time I take you back
You bring one thousand cracks
And I accept them, like a fool oh

Perrie:
So now what's your excuse
What do we have to lose
Since I'm already losing you

Leigh-Anne:
So hard to face, that I can't feel you anymore
Hard to face, that I can't see you anymore

Perrie:
So walk away, until you're not standing at my door
Turn your face, walk away, and stay

Turn your face
Turn your face, and stay
Turn your face
Audio
Click here to listen to it on Deezer

References