"Who's Loving You" is a Motown soul song, written in 1960 by William "Smokey" Robinson. Little Mix did a cover of Who's loving you at the Mixers magnet event. You can also see them practicing this song in the "Little Mix in the USA: DNA Diaries - Episode 3" Video.
This version is featured on the digital download from Salute
Lyrics
Perrie (All):
When I (When I)
Had you (Had you)

Leigh-Anne:
I treated you

Little Mix:
Bad

Jesy:
And wrong my dear
But

Little Mix:
Since

Jade:
Since you'd went

Little Mix:
Away, yeah

Perrie (All):
Don't ya know I
(Hang around)
Sit around
(Sit around)
With my head
(Wi-i-i-i-ith my head hanging down-)

Perrie:
-owwwn

Leigh-Anne:
And I wonder

Leigh-Anne and Perrie:
Wonder

Leigh-Anne, Perrie and Jesy:
Wonder

Little Mix:
-er

Perrie:
Whose

Little Mix:
Whose

Jesy:
Loving
You

Jesy and Perrie:
Ooo

Jesy, Perrie and Leigh-Anne:
Ooo

Little Mix:
Ooo
Video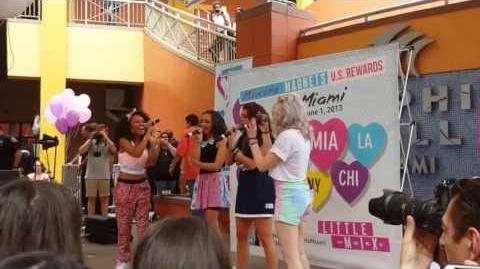 Ad blocker interference detected!
Wikia is a free-to-use site that makes money from advertising. We have a modified experience for viewers using ad blockers

Wikia is not accessible if you've made further modifications. Remove the custom ad blocker rule(s) and the page will load as expected.