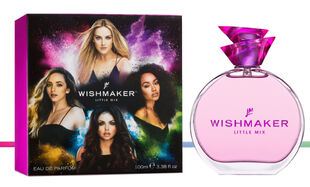 Wishmaker is Little Mix's second perfume. The news of the second fragrance was announced on their Instagram account on July 2, 2016 with the name being announced in the video they posted on their account. [1] It was released in July 2016. There were many gifts sets following after this. The amounts of perfume are the same as Gold Magic: 30ml, 50ml and 100ml. This perfume inspired the second edition, Wishmaker Party Edition.
Gallery
Videos
Wishmaker Party Edition
Wishmaker Party Edition is one of Little Mix's newer editions of Wishmaker[2]. It was released in 2017 and has a little twist from the original. 'The perfume itself has been specially created by the girls and is a completely new blend of their favourite flowers, fruits and smells, resulting in a totally gorgeous party-perfect fragrance. Orange and Bergamot sparkle whilst Jasmine, Rose and Cherry Blossom bloom at the heart. Layers of Caramel and Vanilla have been added for a delicious, edible effect.' This is a quote from Little Mix's official fragrance website[3]. The look of the perfume bottle is exactly the same but the cap is a 'vibrant' blue instead of the shimmering purple. These also have the same amounts as the first edition: 30ml, 50ml and 100ml.
References